Take a look at the Alpine Art Center's space. With two outdoor areas, a banquet hall with capacity of 350 guests, and beautiful bride's and groom's rooms, you'll have plenty of space for all your guests!
Banquet Hall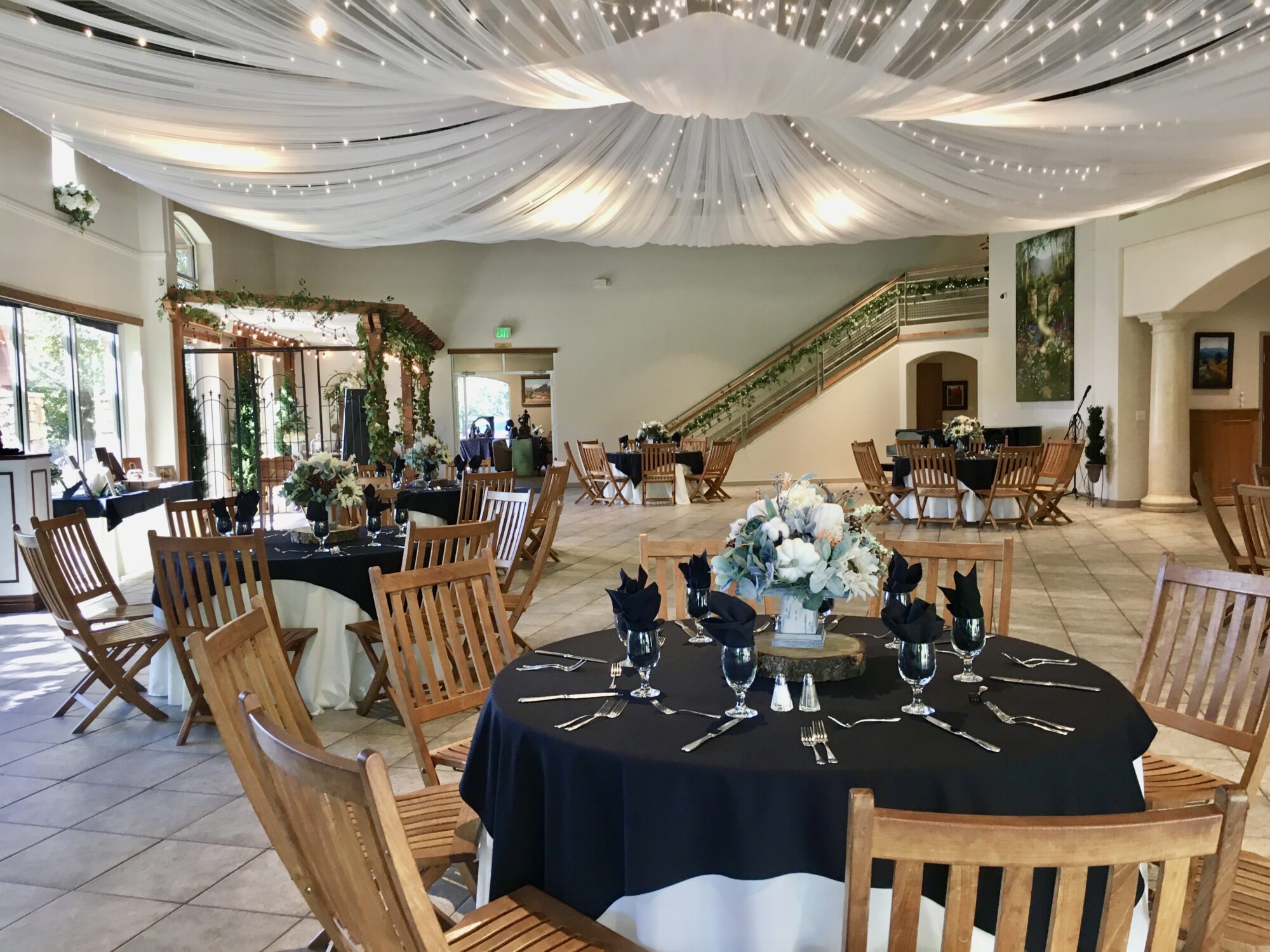 As you arrive to the venue, the main room is where you and your guests will enter first. This is our banquet hall. Usually, this is where guests will sit, dine, and dance. We offer 10 tables included in each rental with 8 chairs at each table. This room has some built-in features as well.
Welcoming you in will be an indoor pergola located right in front of the main doors. Lights, vines, and an indoor fountain make this a perfect and seamless entrance into the venue.
We have a greenery arch in the south corner where indoor ceremonies, reception lines, or head tables usually are located. This provides a beautiful backdrop for weddings of every kind.
On the venue ceiling, framing the dance floor below, is our gorgeous canopy. This canopy is made up of lights, tulle, and a spiraling chandelier. It adds dimension, texture and elegance to the space.
Buffet Area
Our buffet area features a 20 foot long half circle buffet table. We provide in-house catering with plated meal or buffet style options to choose from on our online menu.
You are also welcome to opt for your own caterer if you should want someone else to provide the food during your event. See the Self-Catering Policy under Catering.
This area also has a glass topped hutch and mirror for additional personalized décor space.
Bride's Room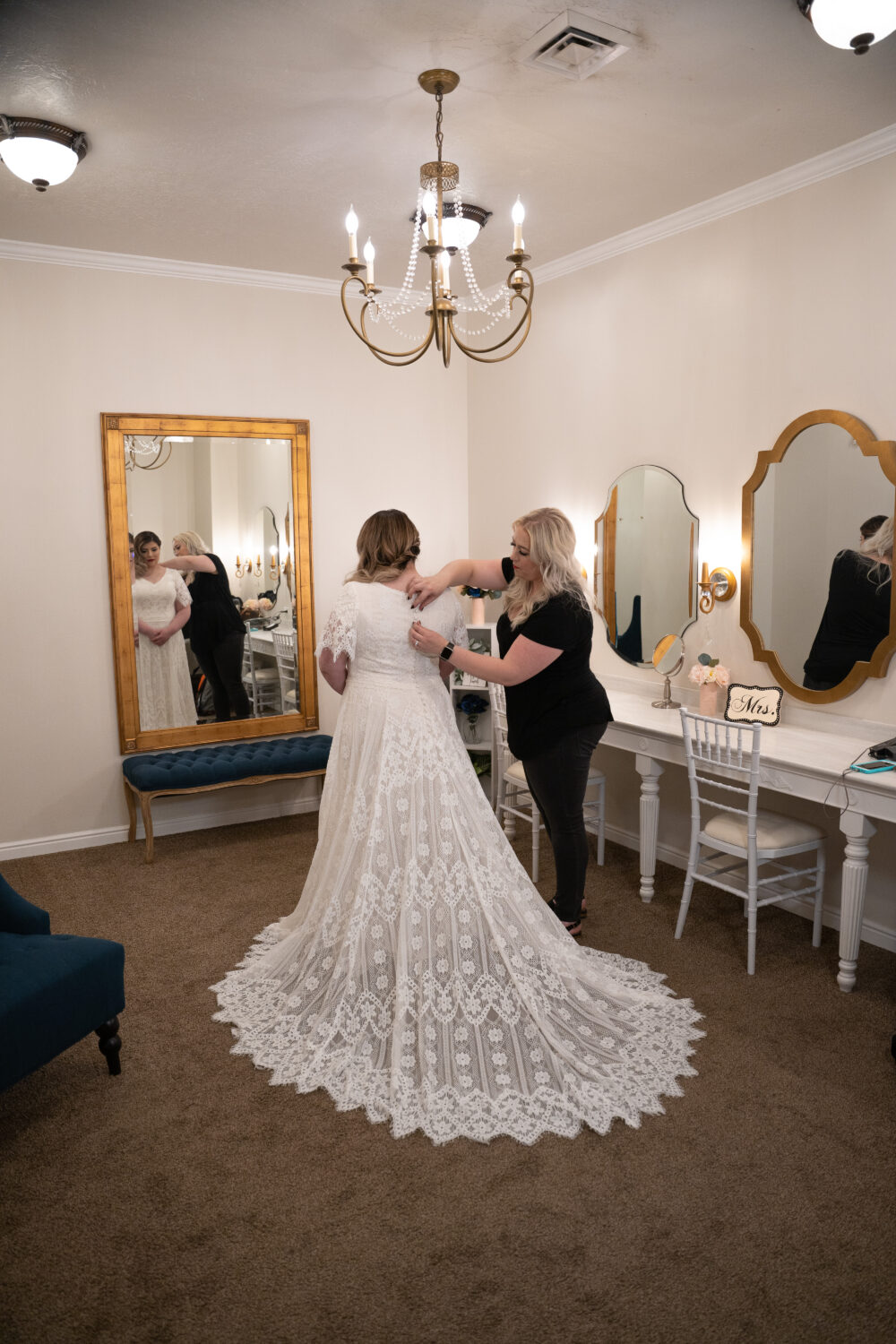 Lexi Rabelo Films
In the Bridal Suite we have double floor length mirrors, a vanity area with outlets and additional seating for bridesmaids and mounted wall hooks for dresses. This well-lit area makes getting ready picture perfect.
Groom's Room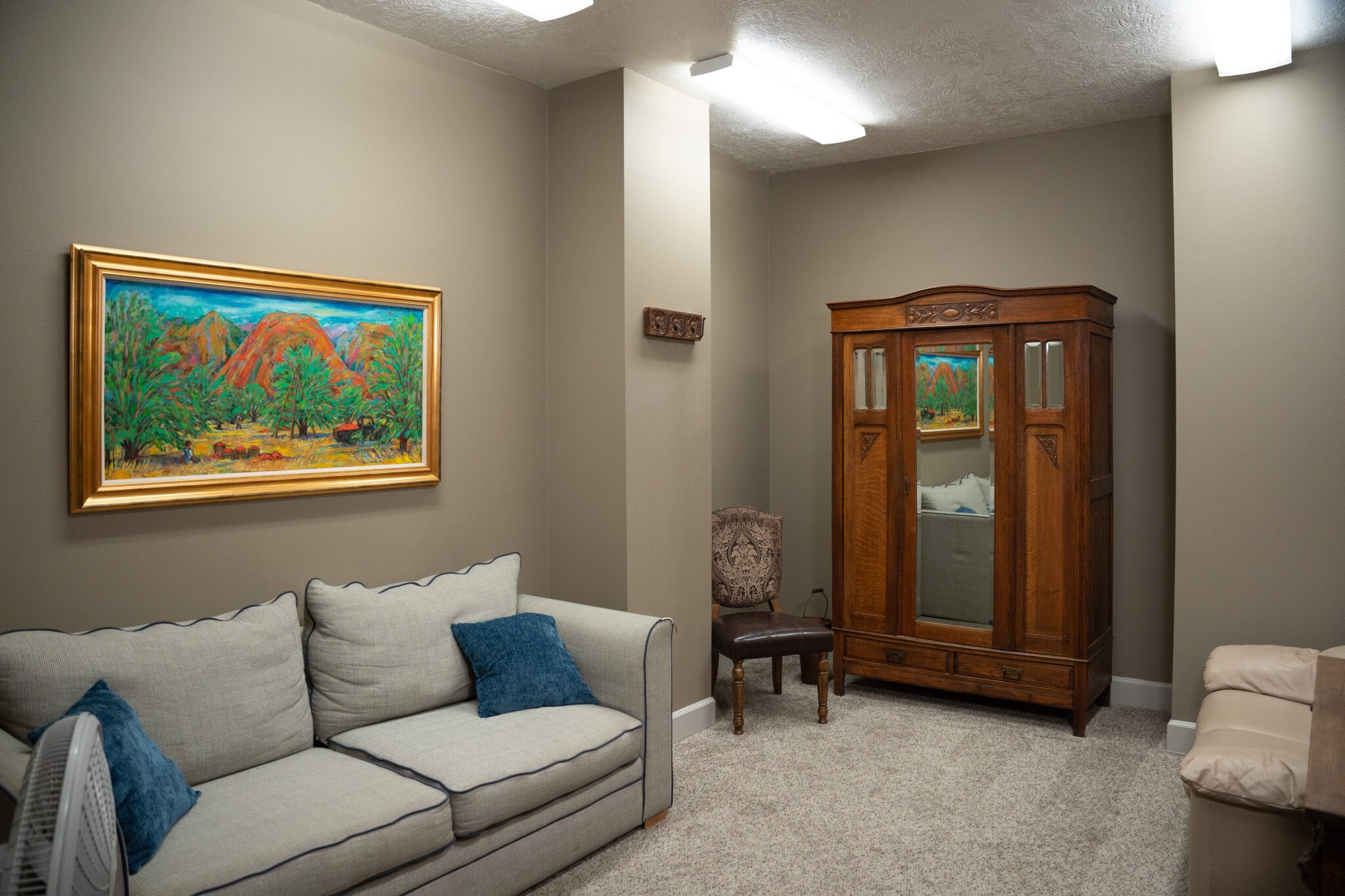 Lexi Rabelo Films
The Groom's Room is a cozy and comfortable room for getting ready, relaxing before your big moment, and having a place to retreat to during what might be a very busy day. This room features full length mirrors and a closet full of hangers ready for your use!
The Gardens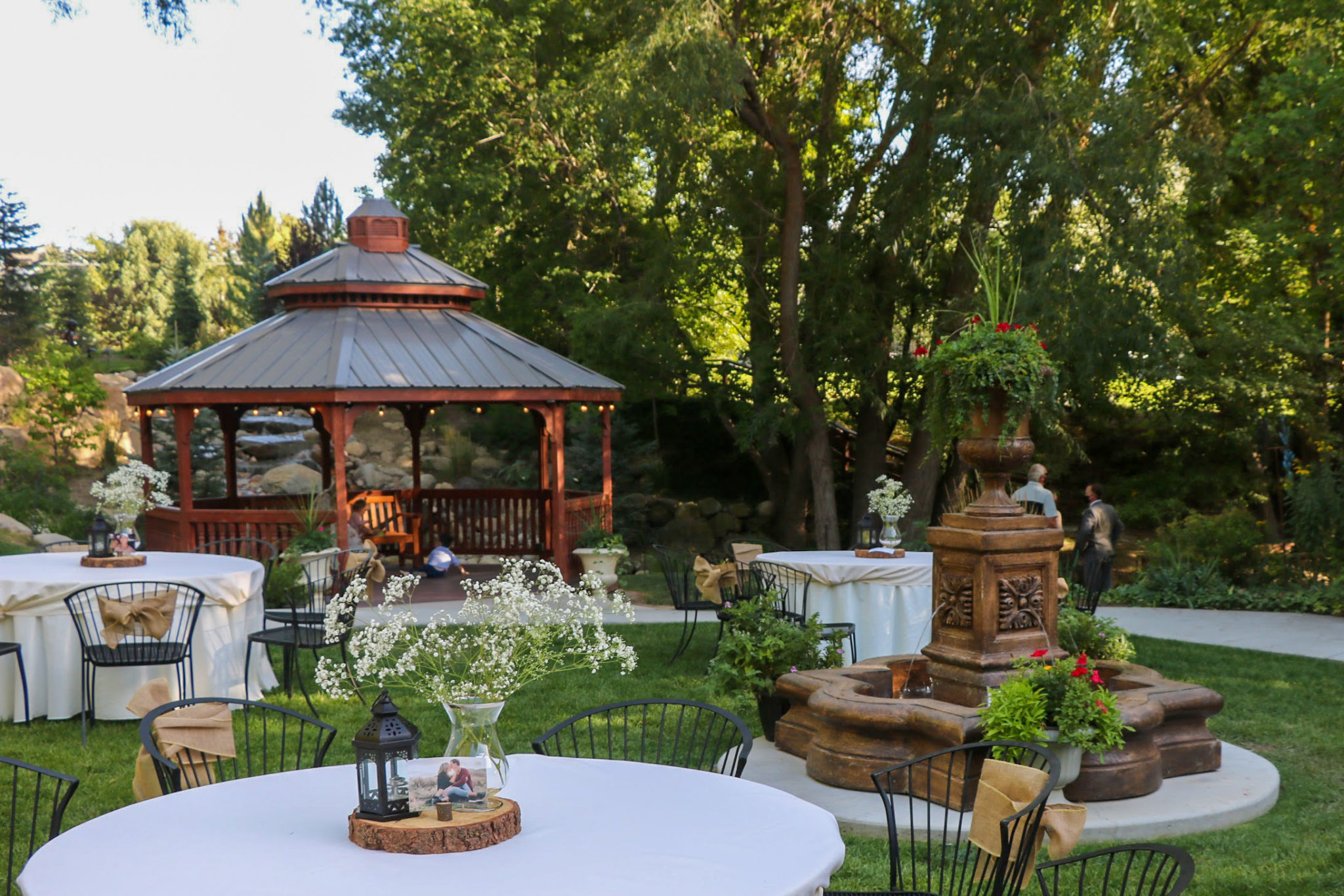 Just southeast of the main entrance and banquet hall is our main outdoor area. This upper garden area includes two structures and two water features.
We have a long outdoor pergola complete with lights, greenery and seasonal floral. This is often the lovely backdrop and location for ceremonies.
In front of the pergola is our 6 foot garden fountain topped with a floral arrangement.
Our gazebo is a popular place for ceremonies, receiving lines, bars, and more!
Directly behind our gazebo is our spacious waterfall that flows in the warmer months of the year and makes for a beautiful backdrop in wedding and bridal photos.
The Lower Gardens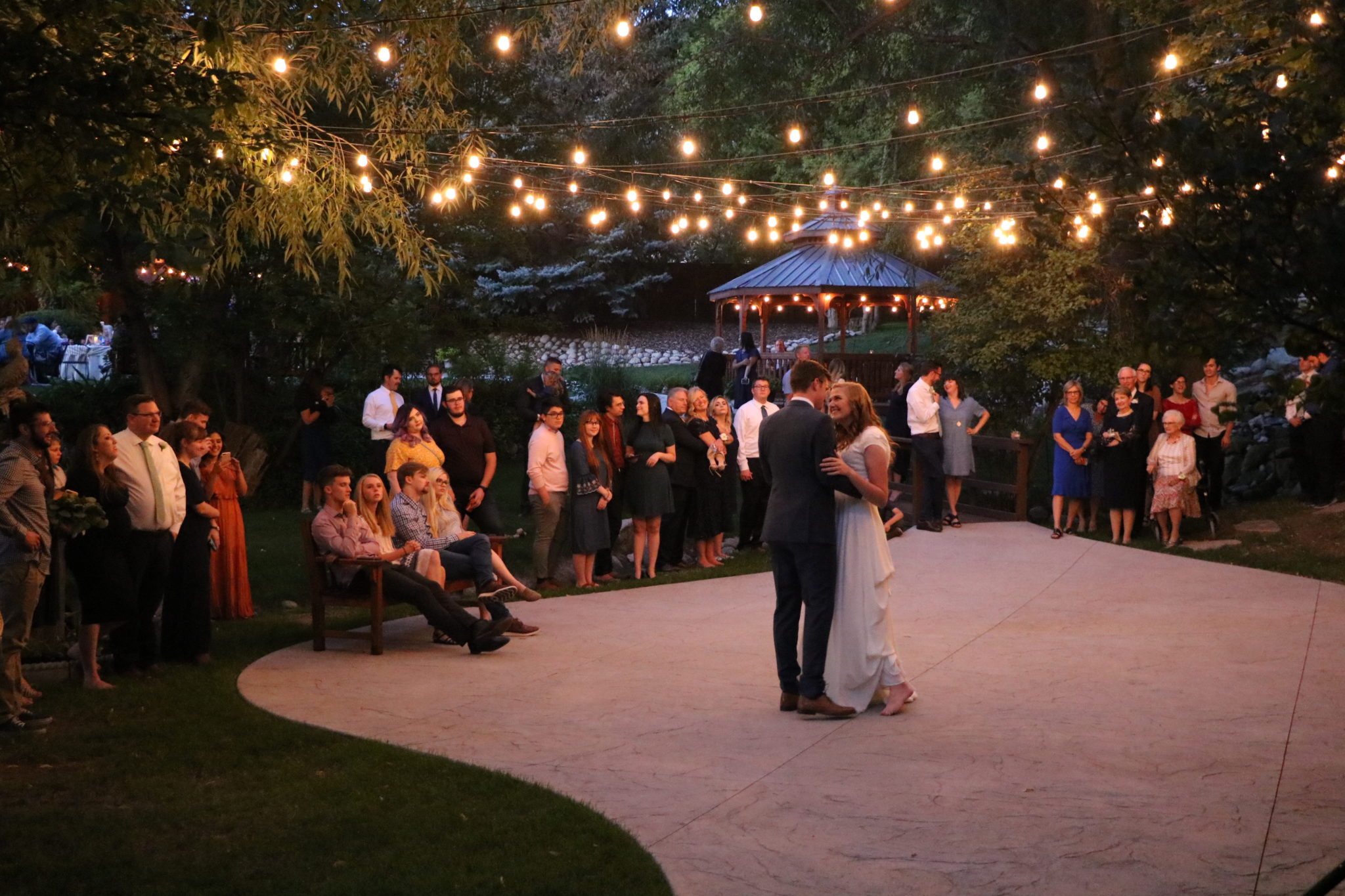 The last area included in the rental is our Lower Garden area. This area is across the bridge from our Upper Gardens and is a paved area great for dancing, dining, or a semi-secluded retreat from all the wedding chaos.
We look forward to celebrating your event with you!
For any additional questions, or a live tour, give us a call at 801-763-7173 or email us at alpineartcenter@gmail.com!
Written by: Tori Miner, Assistant Director of Events